Here's what's coming out in June 2016!
[these are the books I'm looking forward to this month
]
Which ones are you most excited about?
Leave me a comment with your list! :)
Did I miss a June Christian Fiction release
that you've been looking forward to?
Give it
and the author a shout out in the comments!
The Ringmaster's Wife by +Kristy Cambron
(This is a fabulous book! I recently read and reviewed this title
and REALLY enjoyed it)
What is revealed when you draw back the curtain of the Greatest Show on Earth?
Rosamund Easling is no stranger to opulence. As the daughter of an earl, she's grown up with every comfort money can buy. But when hard times befall the family's Yorkshire estate in the aftermath of the Great War, Rosamund's father sells her beloved horse, setting the stage for a series of events that would extend beyond even her wildest dreams.
Though expected to marry for a title instead of love, Rosamund feels called to a different life – one of adventure outside the confines of a ladies' parlor. She abandons all she's known and follows in pursuit as her horse is shipped to the new owner – an American entertainer by the name of John Ringling. Once introduced to the Ringling Brothers' circus and knowing she has much to learn, Rosamund agrees to a bareback riding apprenticeship in the shadow of the Ringlings' winter home—Ca'D'Zan. It is at that mansion, in what would become the last days of the enigmatic Mable Ringling's life, that Rosamund finds a deeper sense of purpose in the life she's been given, and the awakening of faith in her heart.
With a supporting cast of characters as mysterious and dazzling as the Ringlings' big-top world, Rosamund's journey takes her from the tradition of the English countryside to the last days of America's Roaring '20s—a journey that forever changes what one life might have been.
No Other Will Do by +Karen Witemeyer
Men are optional.
That's the credo Emma Chandler's suffragette aunts preached and why she started a successful women's colony in Harper's Station, Texas. But when an unknown assailant tries repeatedly to drive them out, Emma admits they might need a man after all.
A man who can fight--and she knows just the one.
Malachi Shaw finally earned the respect he craved by becoming an explosives expert for the railroad. Yet when Emma's plea arrives, he bolts to Harper's Station to repay the girl who once saved his life. Only she's not a girl any longer. She's a woman with a mind of her own and a smile that makes a man imagine a future he doesn't deserve.
As the danger intensifies, old feelings grow and deepen, but Emma and Mal will need more than love to survive.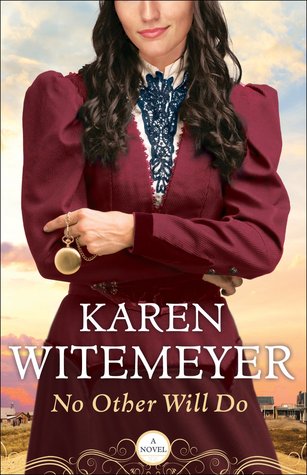 A Haven on Orchard Lane by Lawana Blackwell
In difficult circumstances, Charlotte Ward, once a famed stage actress, tries to restart her career--only to experience disaster. Against her better judgment, her estranged daughter, Rosalind, comes to her mother's rescue and moves her to a quiet English coastal village.
Charlotte is grateful to get to know Rosalind after years apart. As one who has regrets about her own romantic past, it's a joy for Charlotte to see love blossom for her daughter. For Rosalind, however, it's time away from teaching--and now she must care for the mother who wasn't there for her. And what could be more complicated than romance?
Together, mother and daughter discover that healing is best accomplished when they focus less on themselves and more on the needs of others.
From This Moment (From This Moment #1) by +Elizabeth Camden
Romulus White has tried for years to hire illustrator Stella West for his renowned scientific magazine. She is the missing piece he needs to propel his magazine to the forefront of the industry.
But Stella abruptly quit the art world and moved to Boston with a single purpose: to solve the mysterious death of her beloved sister. Romulus, a man with connections to high society and every important power circle in the city, could be her most valuable ally.
Sparks fly the instant Stella and Romulus join forces, and Romulus soon realizes the strong-willed and charismatic Stella could disrupt his hard-won independence.
Can they continue to help each other when their efforts draw the wrong kind of attention from the powers-that-be and put all they've worked for at risk?
We have another .5 coming out!
Of Dubious and Questionable Memory
(Herringford and Watts Mysteries #1.5)
by Rachel McMillan
Ne'er-Do-Wells of New England—You've Been Warned!
Merinda Herringford and Jem Watts are never lacking for mysteries of the curious and commonplace, but lately business has been a little less curious and a lot more common.
With only missing jewelry and a kidnapped rooster on the case docket, Merinda is bored stiff. Jem welcomes the reprieve as she settles into married life, attempting to learn the domestic skills that have cunningly evaded her as a bachelor girl detective.
The lull in business is short-lived when a telegram arrives from the detective duo's suffragette friend, Martha Kingston, detailing the mysterious disappearance of a school chum's sister in Concord, Massachusetts.
No sooner do Jem and Merinda arrive in the States to investigate than they find themselves embroiled in a world of strange affairs, purloined letters, and a baffling mystery whose clues lead directly to Orchard House, the homestead made famous by its long-time resident, Louisa May Alcott.