Here's what's coming out in May 2016!
And aren't these covers GORGEOUS!?
[these are some of the books I'm looking forward to this month
]
Which ones are you most excited about?
:)
Did I miss a May Christian Fiction release
that you've been looking forward to?
Give it and the author a shout out in the comments!
The Quieting by +Suzanne Woods Fisher
The Stoltzfus family faces serious problems, both in the church and at home. Everyone in the community expects minister David Stoltzfus to fix things--fast. But David doesn't work fast. He prefers to wait for God to work in individual hearts. However, even he is left wondering if the solution to their most pressing problem might be a Quieting.
When David's mother arrives, uninvited, more upheaval is in store. She has matchmaking plans for everyone in the family, including David and her eligible granddaughters--and especially for David's niece Abigail. When Abigail stumbles onto a curious connection during her genealogical research, it could help David solve one problem--but will it create another?
Bestselling author Suzanne Woods Fisher takes fans back to Stoney Ridge, delivering the twists, turns, and romance they adore.
Fading Starlight by Kathryn Cushman
Lauren Summers is hiding. Her fashion house internship should have launched her career, but a red carpet accident has left her blackballed. The only job she finds is unpaid, but comes with free lodging--a run-down cottage in the shadow of a cliff-side mansion. Unsure of what comes next, she's surprised to be contacted by a reporter researching a reclusive former Hollywood ingEnue who lives in the nearby mansion.
Kendall Joiner wants Lauren's help uncovering the old woman's secrets. In return, she'll prove the red carpet accident was a publicity stunt so Lauren can regain her former job. With all her dreams in front of her, Lauren's tempted by the offer, but as she and the old woman get to know each other, Lauren realizes nothing is quite as it seems.
Anchor in the Storm by +Sarah Sundin
One Plucky Female Pharmacist + One High-Society Naval Officer = Romance--and Danger
For plucky Lillian Avery, America's entry into World War II means a chance to prove herself as a pharmacist in Boston. The challenges of her new job energize her. But society boy Ensign Archer Vandenberg's attentions only annoy--even if he "is" her brother's best friend.
During the darkest days of the war, Arch's destroyer hunts German U-boats in vain as the submarines sink dozens of merchant ships along the East Coast. Still shaken by battles at sea, Arch notices his men also struggle with their nerves--and with drowsiness. Could there be a link to the large prescriptions for sedatives Lillian has filled? The two work together to answer that question, but can Arch ever earn Lillian's trust and affection?
Sarah Sundin brings World War II to life, offering readers an intense experience they won't soon forget.
Messenger by Moonlight by Stephanie Whitson
When orphaned Annie Paxton and her brothers strike out on their own, they see an ad for the Pony Express that seems to answer their prayers: "Wanted," it reads, "Young, skinny fellows not over eighteen. Must be expert riders and willing to risk death daily. Orphans preferred." Without hesitation, Annie becomes a cook at the Pony Express station, and the boys become Express messengers. Annie soon attracts the interest of two men, and is both flattered and baffled by their attention. One is a refined, dashing officer. The other, a rugged stagecoach driver. When a routine Express mission goes awry, Annie must intervene. Racing on a moonlit adventure, she'll have to learn how to trust her instincts and follow her heart, even if she's conflicted about which way it's leading her.
The Beautiful Pretender by +Melanie Dickerson
What happens when a margrave realizes he's fallen in love with a servant?
The Margrave of Thornbeck has to find a bride, fast. He invites ten noble-born ladies from around the country to be his guests at Thornbeck Castle for two weeks, a time to test these ladies and reveal their true character.
Avelina is only responsible for two things: making sure her deception goes undetected and avoiding being selected as the margrave's bride. Since the latter seems unlikely, she concentrates on not getting caught. No one must know she is merely a maidservant, sent by the Earl of Plimmwald to stand in for his daughter, Dorothea.
Despite Avelina's best attempts at diverting attention from herself, the margrave has taken notice. And try as she might, she can't deny her own growing feelings. But something else is afoot in the castle. Something sinister that could have far worse—far deadlier—consequences. Will Avelina be able to stop the evil plot? And at what cost?
Murder Comes by Mail by A.H. Gabhart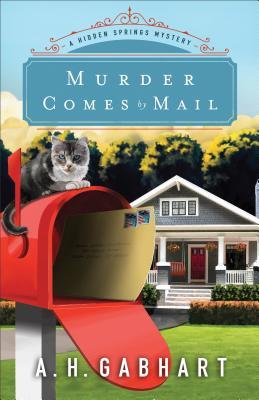 A Cozy Mystery Complete with a Small Town Full of Charming, Quirky Characters
Deputy Sheriff Michael Keane doesn't particularly enjoy being touted as the hero of Hidden Springs after pulling a suicidal man back from the edge of the Eagle River bridge in front of dozens of witnesses--a few of whom caught the breathtaking moments with their cameras. But the media hype doesn't last long as a new story pushes its way into the public consciousness of Hidden Springs' concerned citizens.
Photos of a dead girl arrive in the mail, and Michael becomes convinced she was murdered by the man he saved. With a killer one step ahead, things in Hidden Springs begin to unravel. Now Michael must protect the people he loves--because the killer could be targeting one of them next.
Readers will love racing along with Deputy Sheriff Keane as the clock ticks in this page-turning mystery.
Bride of a Distant Isle by Sand
ra Byrd
Miss Annabel Ashton is a teacher at the Rogers School for Young Ladies in Winchester when she takes a brief visit to her family home, Highcliffe Hall at Milford-on-Sea. She believes her stay will be short but soon learns that she will not be returning to the safety of the school. Instead, she remains at Highcliffe, at the mercy of her cousin, Edward Everedge.
Annabel protests, but as the illegitimate daughter of a woman who died in an insane asylum, she has little say. Edward is running out of money and puts the house up for sale to avoid financial ruin. He insists that Annabel marry, promising her to a sinister, frightening man. But as the house gets packed for sale, it begins to reveal disquieting secrets. Jewelry, artifacts, and portraits mysteriously appear, suggesting that Annabel may be the true heir of Highcliffe.
She has only a few months to prove her legitimacy, perhaps with assistance from the handsome but troubled Maltese Captain Dell'Acqua. But does he have Annabel's best interests at heart?
And then, a final, most ominous barrier to both her inheritance and her existence appears: a situation neither she nor anyone else could have expected. Will Annabel regain her life and property—and trust her heart—before it's too late?
*Books are in order of release and release dates are taken from amazon.com